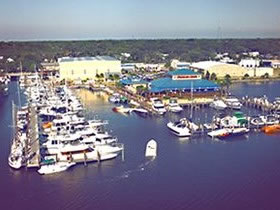 Boca Raton based management and consulting firm Marina Management Services. Inc. (MMS Inc), has recently acquired a third party management contract for Caribbean Jack's Marina in Daytona Beach, Florida.
MMS Inc will oversee the operations of the wet slips, dry storage, fuel dock, and the recreational amenities. The owners of the property, which is also home to Daytona Beach's premier waterfront restaurant, Caribbean Jack's Restaurant, have decided to bring in a professional management team to improve operations at the marina.
The principal owners of the property spent four years successfully planning and building the business from an older, outdated facility to an upscale destination marina. An owner's representative said "It was time to bring in a professional team that better understands the marina and boat storage business."
MMS Inc has relocated Chris Pignataro to Daytona Beach to become the new on-site marina manager. For the past three years Chris has been managing Crown Bay Marina in St. Thomas, U.S. Virgin Islands, another MMS Inc managed property.
One of the first changes implemented by MMS Inc will be the installation of Pacsoft's Marina Management System (PacsoftMMS). Tim Keogh of MMS Inc said, "Once our policies and procedures are fully implemented, we expect to see improvements to the operations, customer experience and to the bottom line." About Marina Management Services Inc: MMS Inc is an international marina management and consulting firm specialising in the marina and boatyard industry. They currently manage marina properties in Florida, New York, and the U.S. Virgin Islands. For more information visit
www.marinamanagement.com
or contact Tim Keogh on +1 (561) 338 5800
Visit Caribbean Jack's Marina at:
www.caribbeanjacks.com
Visit Pacsoft International Ltd's Website at:
www.PacsoftMMS.com