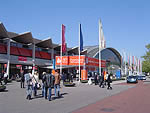 Chris Thomas, CEO of Pacsoft International Ltd has been invited to speak at the 3rd Marina World Seminar at METS 2005.
Aimed exclusively at marina operators, developers and equipment providers, the seminar programme focuses on areas that are key to successful marina management and reflect current industry trends.
The Marina Seminar complements the Marina Pavilion, a dedicated marina equipment arena that is organised by Amsterdam RAI in association with Marina World.
The full programme for the Marina World Seminar is as follows:
16 November 2005 - 10.00 - 16.30 hrs
Venue: Room C
10.20 hrs - Chairman's welcome and introduction
Mick Bettesworth CMM, development director, Marina Developments Ltd, UK
10.30 hrs - Marinas as part of urban waterfront development
Heiner Haass, Deutsche Marina Consult, Germany
11.00 hrs - Marina design using aluminium technology
Guy Schaller, sales director, Poralu, France 11.30 hrs – 11.45 hrs Morning coffee
(sponsored by HydroHoist International)
11.45 hrs - Environmental issues – little extras make a big difference!
Osvar Siches, manager, Pantalan del Mediterraneo, Mallorca
12.15 hrs - Floating fuel stations – innovations, safety and ease of fuelling
Andris Kursitis, managing director, Pildne, Latvia
12.45 hrs – 13.00 hrs Questions
Reconvene at 13.55 hrs
14.00 hrs - Professional management – how training can give you an edge Mick Bettesworth, Marina Developments Ltd, UK
14.30 hrs - Marinas, software and business development
Chris Thomas, CEO, Pacsoft, New Zealand
15.00 hrs – 16.15 hrs Marina Operations
Presentations from marina managers – to be confirmed
Question time
Afternoon tea
(Sponsored by Bellingham Marine Europe)
For more information see the Marina World – September/October 2005 No.31 Vol 6 Issue 1
Visit the Marina World Website at:
www.MarinaWorld.co.uk
Visit the Mets Trade Website at:
www.MetsTrade.com
Visit Pacsoft International Ltd's Website at:
www.PacsoftMMS.com