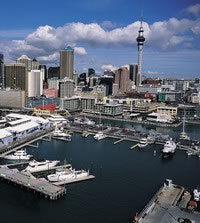 Chris Thomas, CEO of Pacsoft International Ltd was invited to speak at the Marinas8 Conference held in Auckland, New Zealand.
Organised by the Marina Operators Association of New Zealand (NZ MOA), Marinas8 was the first marina conference to be held in New Zealand for over 15 years. It attracted 180 delegates, largely from the South Pacific region, and placed emphasis on regional as well as national issues.
Marinas8 (15th to 17th March 2005) was the finale event in a marine festival that encompassed Auckland's first 'international' boat show and the Yacht Vision 05 superyacht design symposium.
Speaking at the Hilton Hotel on the waterfront in the 'City of Sails', Chris Thomas described how having a sound management system in place was a firm way to increase profits at a marina.
He discussed the PacsoftMMS Management System initially developed in association with Westhaven Marina. "Westhaven saved 1.5 staff members when it implemented Pacsoft and it already had a computerised system!" explained Chris.
Westhaven Marina is one of the largest marinas in the Southern Hemisphere and is located in downtown Auckland with 1,432 marina berths, 329 pile moorings, and 53 swing moorings all being managed by PacsoftMMS.
Visit the Marinas8 Website at:
www.marinas8.com
Visit the Westhaven Marina Website at:
www.westhaven.co.nz
Visit Pacsoft International Ltd's Website at:
www.PacsoftMMS.com