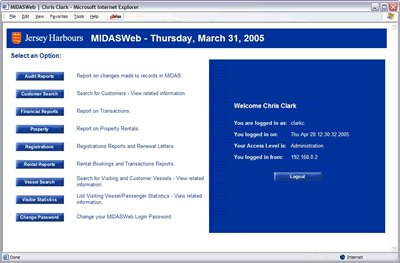 As part of the implementation of PacsoftMMS for Jersey Harbours (locally referred to as MIDAS), Ocean Road has developed and implemented an additional web-based search and reporting tool – MIDASWeb.
Developed by Ocean Road specifically for Jersey Harbours, the tool interfaces directly with the PacsoftMMS Marina Management System database, providing:
Audit Reports.
Customer Searches.
Financial Reports.
Property Reports.
Vessel Registrations Reports.
Rental Reports.
Vessel Searches.
Visitor Statistics.
The system has allowed Jersey Harbours to provide controlled access to relevant users that didn't require full access to the Marina Management System with little or no training. In addition no further investment in software was required as Jersey Harbours already utilise the widely used Microsoft Internet Explorer Web Browser, and have an internal Microsoft Internet Information Services (Web) Server.
MIDAWeb is being actively used in Search and Rescue operations, allowing users to perform searches for vessels involved in incidents and find related customer information, quickly, easily, and efficiently
Whilst MIDASWeb has been developed specifically for Jersey Harbours, similar applications can be easily written for any Marina operation wishing to share the wealth of valuable business information stored within PacsoftMMS with other users without the need for additional software and little if no training.
Visit Jersey Harbours' Website at:
www.jersey-harbours.com