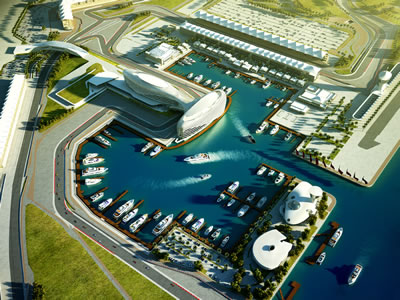 Aldar Marinas select PacsoftMMS for its strategic Marina Management Solution with implementation ready for the opening of the Yas Marina and the 2009 Formula 1™ Etihad Airways Abu Dhabi Grand Prix.
PacsoftMMS CEO Chris Thomas is pleased to announce that after careful consideration of suitable systems, PacsoftMMS was selected as the best and most advanced solution to meet the current and future business needs of Aldar Marinas, with its planned marinas in Abu Dhabi.
Aldar Marinas, a wholly formed subsidiary of Aldar Properties, PJSC, offers world-class, sustainable environments to ensure a wide variety and range of access to regional Abu Dhabi waterways, facilitated by innovative management techniques for the marina industry, including the successful PacsoftMMS marina management solution.
PacsoftMMS will provide:
A leading operational, accounting and management information technological solution.
Integration with the Rolec Berthmaster Utility system to provide automated management of the power and water billing, directly from the Marina Office.
Integration with the Security Gate Access Control System.
Integration with Aldar's Oracle Financial systems.
Yas Marina, located at the heart of the Yas Marina Circuit on Yas Island, is the first implementation of PacsoftMMS at Aldar Marinas, in time for this year's Formula 1™ on 30 Oct to 1 Nov 2009.
About Yas Marina:
Yas Marina is the flagship of Aldar's marina projects, located at the heart of the Yas Marina Circuit with berthing adjacent to the Formula 1™ race track. Yas Marina is the world's latest Superyacht Marina with a capacity of 143 yachts, accommodating vessels ranging between 15m to 66m on an annual basis. In addition, the marina also boasts visitor berthing for Superyachts of up to 150m*. Set to be one of the most premier marinas globally, luxury yacht owners will have access to the Yas Yacht Club (YYC) and The Yas Hotel.
*Yas Marina can accommodate yachts up to 150m in length, permitted they will clear the air draft under the Shahama Saadiyat Freeway bridge.
Visit the Aldar Marinas Website at:
www.aldarmarinas.com
Visit the Yas Marina F1 Circuit Website at:
www.yasmarinacircuit.com
Visit Pacsoft International Ltd's Website at:
www.PacsoftMMS.com