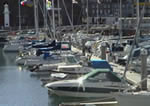 Ocean Road is pleased to announce the launch of the Live PacsoftMMS Marina Management System at Jersey Harbours - Jersey, Channel Islands
Ocean Road has been contracting with Metoc plc and working alongside ITEX (Jersey) to implement the PacsoftMMS Marina Management System for Jersey Harbours. Having transferred and mapped data electronically from the previous system, the PacsoftMMS system now caters for:
The Management of some 4,000 Berths, Moorings, Car Park, and Property sites.
A customer database, managing in excess of 10,000 records.
A vessel database, managing in excess of 6,000 records.
A visual marina, for marina management, also catering for landside property management.
The management the Jersey Vessel Registration Scheme.
Issue of various permits and certificates, such as car parking permits.
Provision of a Search function for Search and Rescue, Customs, and Police.
Management of Waiting lists.
Collection of electricity readings for invoicing for both marinas and property.
Automatic production of invoices for recurring charges.
Automatic notification of expiring rental agreements for Berths, Moorings, and Property, and notification of Property Rental Reviews due.
A handheld pocket PC based version providing for pontoon based berth sales, and daily vessel movement information.
Numerous Management Reports.
Integration with the Access Dimensions Accounting System.
Visit Jersey Harbours Website at:
www.jersey-harbours.com
Visit Metoc plc's Website at:
www.metoc.co.uk