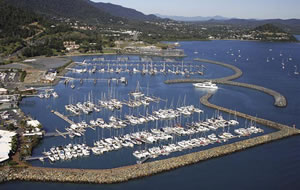 Privately owned property development company Meridien has made a marked impression on the Queensland marina industry with the purchase of three prime marina sites in under two years, all supported and using the PacsoftMMS Marina Management Software.
Creating thousands of new jobs and hundreds of new marina berths, Meridien's multi-million dollar investment has secured it a key position amongst the country's leading marina owners. And the quest to add to the portfolio continues.
Investment number one – Horizon Shores – was a substantial leap of faith for an industry newcomer. However, armed with extensive expertise in multi award-winning residential and resort developments and a keen eye for a unique site, Meridien dug deep and thought big. In mid-2005 it purchased Horizon Shores for $25 million and has plans to expand it by 15 times its current size to offer up to 150,000 sq m of industrial space, a 1,350-berth marina and fully integrated waterfront resort retail village. When complete, the project is expected to have assets worth $450-500 million.
Project number two – Port of Airlie, at Airlie Beach – is a mixed use 28-hectare precinct with a 300-berth marina and project three, Abel Point Marina (also at Airlie Beach) a 520-berth marina with potential for expanded retail outlets and commercial services.
This exert is reproduced with the kind permission of Marina World, and features in their May/June 2007 edition.
Read the full article and find out more about the Marinas that are making use of and benefiting from PacsoftMMS (in Adobe Acrobat PDF Format) - Click Here
Many thanks to Marina World for supplying this article.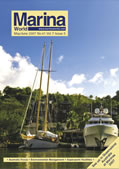 Visit the Meridien Marinas Website at:
www.meridienmarinas.com.au
Visit the Marina World Website at:
www.MarinaWorld.com
Visit Pacsoft International Ltd's Website at:
www.PacsoftMMS.com