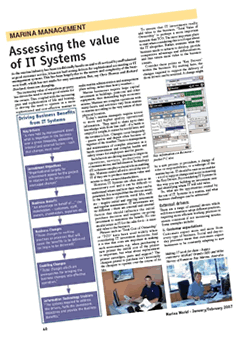 As the marina industry has been traditionally hands-on and well serviced by staff talented at good customer service, it had not had strong drivers for sophisticated accounting or IT management systems. This has been largely due to the nature and complexity of the business itself, which has not lent itself to easy automation. But say Chris Thomas (of Pacsoft International) and Richard Dowland (of Ocean Road), times are changing….

The increasing value of waterfront property has driven the need to ensure good returns for the owners. This, couple with the increasing pace and sophistication of life and boating, is driving the need to operate in a more sophisticated and cost-effective manner to make marina administration and management plain sailing, rather than heavy weather..
Marina businesses require large capital investment in buildings, pontoons, and other equipment, thus demanding high economic returns. Marinas are complex operations with many facets, and activities vary from marina to marina accordingly to the very nature of their physical location.
Today's marina managers require access to more and higher quality operational information. They need to share up-to-date knowledge with front line staff - if a berth is empty for a night, it cannot be resold later, and the revenue is lost. Changes occur frequently - guests arrive and depart often because of the vagaries of the weather. There is management and maintenance of complex structures in a harsh environment and complex health and safety issues for employees and guests.
Such factors are driving marinas to improve operations, services, productivity, and communications; and Information Technology (IT) solutions can play a crucial role in enabling this. Marinas cannot afford to avoid the use of IT if they are to produce maximum return to their owners/shareholders.
This exert is reproduced with the kind permission of Marina World, and features in their January/February 2007 edition.
Read the full article (in Adobe Acrobat PDF Format) - Click Here
Many thanks to Marina World for supplying this article.

Visit the Marina World Website at:
www.MarinaWorld.com
Visit Pacsoft International Ltd's Website at:
www.PacsoftMMS.com