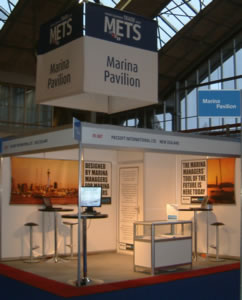 Pacsoft International and Ocean Road are pleased to report another successful exhibition at the METS 2006 International Marine Trade Show, with strong interest from Marinas and potential partners alike.
Joining 1,822 other exhibitors from 39 countries around the world, Pacsoft International and Ocean Road officially launched Version 7 of the highly acclaimed PacsoftMMS Marina Management System, together with "Pacsoft Professional Services (PPS)".
PPS is designed to help Marina Management understand their current processes and offer options for business improvement, together with demonstrating how PacsoftMMS can assist in this process and ensure added value to the Marina operation.
Chris Thomas, Chief Executive Officer, Pacsoft International Ltd, said:
"Anyone can offer software to any business these days, and much is sold over the internet that has been written in isolation and delivered anonymously which really doesn't help customers at all.

At Pacsoft, our philosophy is to get to know your business in the context of all the other Marina businesses we have met, find out what you really need to achieve, and help deliver that - nothing less, but quite possibly considerably more."
Commenting on METS06, Richard Dowland of Ocean Road said:
"This was the second time that we have exhibited at METS and despite a local public transport strike visitor numbers were up on 2005 to 16,805 visitors. We have been particularly impressed with the quality of the contacts made, and very happy to report the continued interest in the PacsoftMMS Marina Management Software and our added value services that our existing customers around the globe have come to enjoy and profit from"