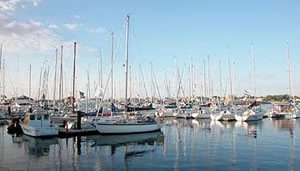 Port Geographe Marina, a residential and resort marina have chosen PacsoftMMS following a 12 month search for a fully integrated marina management system.
Port Geographe's Marina Manager, Bob Godridge spent 12 months searching for a fully integrated marina management system. During his research he became aware of PacsoftMMS which led to marina inspection tours with several business partners.
"We talked to several marinas who were using the system and were getting good references", said Godridge.
The underlying reasons for choosing the PacsoftMMS system to run Port Geographe Marina were highlighted by Godridge as:
"The complete coverage of most facets of our business within the system"
"The philosophy of Pacsoft that we are business partners working together to achieve our individual aims sits well with us"
"That we will be using software that a number of other marinas find quite adequate and that MMS has the ability to be adapted to most of our individual circumstances"
"We are pleased with the level of communication between Pacsoft and ourselves"
The first stages of implementing the PacsoftMMS system at Port Geographe Marina have now been completed and the implementation process will be finalised during September.
Port Geographe Marina is located in the heart of Geographe Bay near the township of Busselton, in Western Australia's most dynamically developing region. Port Geographe is the first marina in this region to install PacsoftMMS.
This new addition to the PacsoftMMS Marina Management System user base adds to the success that PacsoftMMS has gained throughout Australia and around the world.
Chris Thomas, CEO of Pacsoft International Ltd, said "We are very pleased that yet again after an extensive search by a Marina operator of the Marina Management Systems available around the world, PacsoftMMS has yet again been chosen as not only the best Marina Management System, but the best Marina Management Solution".
"We feel that one of the differentiators between Pacsoft and our competition, is that we and our PacsoftMMS partners around the world are not just providing software, but we are working closely with our customers as partners to provide Marina Management Solutions that are adding value to our customers businesses".
Visit the Port Geographe Marina Website at:
www.portgeographemarina.com.au