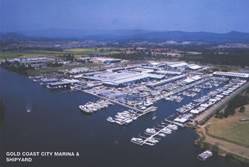 Gold Coast City Marina has taken 18 months to find the right marina management software.
Director Jenny Leigh-Smith, stated: "Our marina is quite different to general marinas where it's just basically berths. We are such a complex marina and we have so many different areas that we control.
There are corporate body issues, dry storage racking, marina berths and rentals. There are also factory rentals and there are superyacht sheds that are rented for a day to a month to a year.
Ours is a very complex site so to find something that was going to fit all our needs was very difficult".
After a worldwide search, Jenny was given a live demonstration of PacsoftMMS and met the Pacsoft International Ltd management team.
She chose the system for three reasons: it was user-friendly; worked well with her marina's accounting package; and was visually easy to comprehend.
She is certain that her staff will be able to adapt to it without any problems. .
Visit the Gold Coast City Marina Website at:
www.gccm.com.au