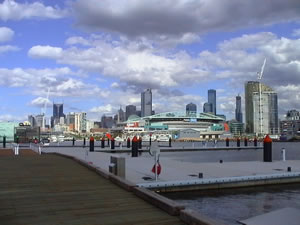 The Waterfront City Marina and Wharves in Melbourne Docklands is now managing operations through the integrated PacsoftMMS solution, which provides effective rental booking, reservation and invoicing. The second phase of the PacsoftMMS implementation involves the addition of the new PacsoftMMS Time Based Booking module to cater for short term and 'overnight' berthing at the new marina.
"An integral part of the Melbourne Docklands vision is creating an integrated boating destination for a wide range of vessels. As such, the ability to effectively and efficiently manage all visiting vessels, whether that be for a matter of hours, days, or weeks, is essential to us in achieving our vision and objectives," explained John Ferguson, the organisation's project director.
"The marina often needs to cater for short term berthing for leisure activities such as people's weekend visits to the city, attendance at sporting events or visits to the nearby bars and restaurants. The time based module provides the management tool to facilitate our management of these visiting vessels."
The new module will provide the ability to book and invoice a berthing slot on a time basis and display the booking schedule on a visual grid for easy reference by staff members. Future enhancements will include mobile EFTPOS and credit card payment whilst on the marina and a web-based booking module.
Visit the Melbourne Docklands Website at:
www.docklands.com