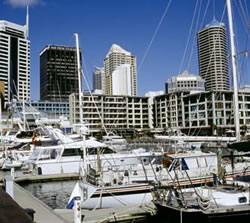 Located in the heart of Auckland Cities CBD Waterfront situated right next to New Zealand's largest marina (Westhaven) berthing over 1,500 boats, Viaduct Harbour saw the benefits in implementing the same marina management system that Weshaven had to efficiently manage their 70 berth marina operation.
Viaduct Harbour provides premium marina facilities at a world class address. In a prestigious residential, commercial and entertainment precinct, Viaduct Harbour offers boat owners immediate access to numerous outstanding restaurants, bars, tourist facilities, hotel / apartment accommodation along with the regular events and attractions that afford the area its vibrant, renowned atmosphere and reputation.
Whilst the marina itself is very small comprising 70 berths, it enjoys full security and general berth services. It also offers direct access to New Zealand's most comprehensive marine service estate, inclusive of all boat maintenance, refurbishment and provisioning requirements.
Reducing time, reducing processes
To better manage the marina operations Marina and Security Manager, John White, chose PacsoftMMS. "We use PacsoftMMS as a tool to enhance what we do. It has definitely reduced our work load, doing a booking in the past I would pass to accounts to then do the invoice. Now I can do a booking over the phone where I complete the booking, invoicing, and payment using MMS. I can process the whole thing. Having no paper trail has made things easier".
The biggest benefit for Viaduct Harbour has been the PacsoftMMS's "Utility Charging" feature. Each berth within the marina has utilities. John processes invoices and receipts for all utility charges on a monthly basis and finds MMS as excellent tool for this purpose.
Portable database helps sole operators
Being able to synchronise with his PocketMMS allows John to process charges by using a handheld pc. "We invoice all of our utilities such as power and water, and I can do that along with meter readings it's great. I can also carry around my whole customer database in my pocket. Because it's a sole operation here it means I can look up any of my customers or boats. The ability to carry that whole database around with you is really good".
Unlike many marinas, much of the traffic Viaduct Harbour receives is local traffic of which 50% are active charter boats because of the marina's location. Visitor and charter boats who simply visit the precinct for a few hours do not get charges. With views across the Harbour and CDB and easy access to the stunning Hauraki Gulf you can see why Viaduct Harbour is a world class destination for all boat owners and visitors to New Zealand.
Visit the Viaduct Marina Website at:
www.viaduct.co.nz