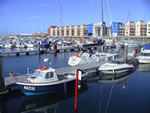 Following an extensive review of business operations to identify requirements for the replacement of their 'outdated' marina management system, Jersey Harbours in the Channel Islands have chosen PacsoftMMS. The Marina Management System will be implemented for Jersey Harbours by Metoc plc, with Ocean Road working as a subcontractor on the project.
The Metoc bid was praised as being of an exceptionally high technical standard and supporting leading edge systems development.
Jersey Harbours (part of the States of Jersey) is responsible for the operation of three marinas, all of the island's moorings, the port operations, all related property and assets, and the Island's Vessel Registration scheme.
PacsoftMMS will be providing for the following requirements:
Integrated Marina Management System to replace an aging and fragmented system.
To manage all property, parking, vessel registry and marina/mooring bookings.
To provide financial information to their accounts package for billing purposes.
Database and statistical analysis tools.
Provide information on all registered vessels directly to Customs and the Emergency Services.
Visit Jersey Harbours Website at:
www.jersey-harbours.com
Visit Metoc plc's Website at:
www.metoc.co.uk