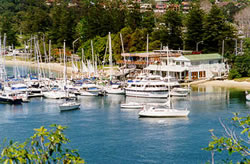 "It was a big step, we are a small marina, there was no discipline in the marina management and we have had to make ourselves disciplined, but now we are there, we are really happy with the outcome; we would do it again!"
Fergusons Boatshed Marina is a small boutique marina and boatshed, located on Split Peninsula in Sydney Harbour offering berthing for vessels up to 200ft. The facility offers a wide range of services.
"The decision to make the considerable investment of funds and manpower in PacsoftMMS (Marina Management System) was taken in recognition of the need to stay ahead of the pack". Fergusons wanted a system that was not only made for local conditions but also supported by a successful team.
Fergusons are running a lifestyle business seriously. They are there because they want to be and they are serious about their marina business. "We wanted to have the ability to take the key personnel aspect away from the key personnel. MMS has allowed us to delegate. Our marina hand has become our dock-master, with possibly half of that person's salary being met by extra income from the daily dock walk using MMS printout as the reference point. This was a job that the principals simply couldn't find the time to perform, and without a suitable document to work from we couldn't entrust to an employee."
MMS is user friendly and able to be used by all marina staff. The "Haulout" module has allowed Fergusons to have a professional approach to their boatyard operations. The time sheets have made the calculation of wages easier by printing out a report at the end of the week.
"Our Service Manager loves the haul out and repair module. So much of what was previously only capable of being performed by top management is now handled by the Service Manager and his team. The staff have really taken MMS on board and this has made our business into a very smart operation." Pacsoft started MMS (Marina Management System) in 1997, after discovering the NZ marinas were failing to find suitable software off shore. Since then, Pacsoft has worked with marinas to improve MMS. The company is now working with marinas in Australia, the USA, the United Kingdom and New Zealand, bringing ideas from these countries together into a successful marina program.
Visit the Fergusons Boatshed Marina Website at:
www.sydneyharbour.net/fbm.htm