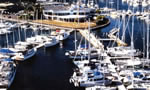 After extensive research for a suitable club and marina management system, the Royal Prince Alfred Yacht Club (RPAYC) in Sydney, Australia - home to the largest marina in New South Wales - has entered into a strategic partnership with Pacsoft International.
PacsoftMMS will provide an integrated yacht club membership and marina management system for the club's 1800 members, providing interface with the food and beverage point of sale and access control systems.
In addition, the system will manage other key marina operations including rental booking, invoicing, haul-out, and service yard management, and general ledger interface to the Microsoft Great Plains accounting package.
RPAYC general manager, John Dorling, sees wide-ranging benefits. "The PacsoftMMS system will streamline the club's business processes, improve member services and improve the efficiency of the club", he said.
Read the article as published in the March/April 2006 edition of
Marina World - Click Here

Many thanks to Marina World for supplying this article.
Visit the Marina World Website at:
www.MarinaWorld.co.uk
Visit the Royal Prince Alfred Yacht Club at:
www.rpayc.com.au
Visit Pacsoft International Ltd's Website at:
www.PacsoftMMS.com