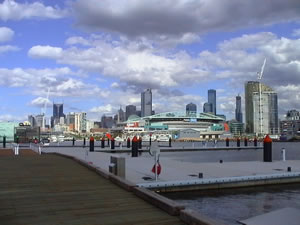 Following the Pacsoft implementation at Horizon Shores Marina in Australia, Ocean Road working alongside Pacsoft International Ltd (PIL) have now completed the implementation of PacsoftMMS at Melbourne Docklands, Melbourne, Victoria, Australia.
Part of the hot new harbourside retail and entertainment precinct of Waterfront City and planned to be the public hub for water movements and events, Melbourne Docklands will be hosting the Volvo Ocean Race during February 2006.
The Marina will be used by visitors to the Race related events and also for the Commonwealth Games and the Melbourne Grand Prix.
New enhancements have been made to PacsoftMMS to cater for Melbourne Docklands' requirements, including the ability for PocketMMS to talk to the main MMS system live via Wireless or GPRS Mobile networks. New features will additionally cater for the ability to book berths for a number of hours rather than days to better cater for Marinas hosting events.
View the Australian 10 News Video clip - Click here
Visit the Melbourne Docklands Website at:
www.docklands.com