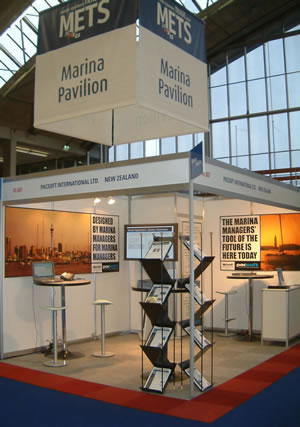 At the close of the METS 2005 Marine Equipment Trade Show today Ocean Road and Pacsoft International reported strong interest in the PacsoftMMS Marina Management System.
Richard Dowland of Ocean Road said: "This is the first time we have exhibited at METS and we have been very pleased with the interest shown in the PacsoftMMS Marina Management System. Not only have we received great interest from Marina Operators and Owners, but also a significant expression of interest from Marina Industry related businesses looking at exploring partnership arrangements with us".
In addition to exhibiting at the show, Chris Thomas, CEO of Pacsoft International spoke at the 3rd "Marina World" Seminar explaining how technology can make money for the marina operator. Promoting IT as an investment and professional management software packages as less costly in the long term than off-the-shelf alternatives, Chris also stressed the benefits of self-discipline when a professional system is implemented - "what gets measured - gets done".
Ocean Road and Pacsoft International are looking forward to exhibiting again at METS 2006.