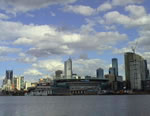 Ocean Road will be assisting Pacsoft International Ltd (PIL) with two new PacsoftMMS implementations in Australia during the latter part of November and early December.
The two Marinas to choose PacsoftMMS are "Horizon Shores Marina" in Coomera between Brisbane and the Gold Coast, Queensland, and Melbourne Docklands in Melbourne, Victoria.
Ocean Road will be working alongside PIL installing and configuring the PacsoftMMS systems, dealing with Data Transfer, and providing Training.
Richard Dowland of Ocean Road said "We are delighted to be working with Pacsoft on these two very different implementations. Ocean Road maintains a close working relationship with Pacsoft International and this contract highlights Pacsoft's appreciation for our skill with, and in depth knowledge of, PacsoftMMS.
Once the implementations are completed we will be visiting Pacsoft International at their base in Auckland, New Zealand, to meet with the Pacsoft team and discuss various areas of development for the PacsoftMMS system; many of the ideas for which have come from our existing clients and users of PacsoftMMS.
This emphasizes that one of the valuable benefits of PacsoftMMS is that experience and operational requirements from all around the globe can be fed back to Pacsoft. The result creates a strong product to support Marinas around the world backed up by the knowledge and experience of the Pacsoft Global network, of which Ocean Road plays a part."
Visit the Horizon Shores Marina Website at:
www.horizonshores.com.au
Visit the Melbourne Docklands Website at:
www.docklands.com