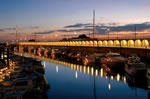 The island of Jersey is the jewel of the Channel Isles, enjoying more sunshine and warmer temperatures than anywhere else in the UK. It is a holiday hotspot, with its harbours welcoming more than 7,000 maritime visitors each year. At the helm sits Jersey Harbours, the mainstay of the island, vital to ensuring visitors are attracted back year after year. An extensive organisation and government agency, it is responsible for every maritime aspect of the island, from Sea Rescue to parking services and over 4,000 berths.
The challenge for Jersey Harbours was to introduce a management system that would bring together the numerous, diverse facets of the organisation while simplifying all the operations at the same time. The aim was to end up with a 'one stop-shop' for both customers and staff, providing them with a host of information from one single interface.
The first steps
Where to begin? The first and most crucial step was to undertake a comprehensive audit of the entire business, and to look to staff to highlight any operational or functional shortfalls. From there, key areas in need of attention were identified and a detailed tendering process ensued. The criteria was for a system that had to be tailor-made but not bespoke to avoid the scenario of a system's key knowledge repository sitting in the mind of one person, who, if they chose to leave, would take all that information with them. After a pains taking process, involving visits to two marinas on the south coast of England to gauge the users' take on their suppliers and systems, a 'marina management system' from New Zealand-based Pacsoft Systems was selected.
This exert is reproduced with the kind permission of Marina World, and features in their November/December 2005 edition.
Read the full article (in Adobe Acrobat PDF Format) - Click Here
Many thanks to Marina World for supplying this article.

Visit the Marina World Website at:
www.MarinaWorld.co.uk
Visit the Jersey Harbours' Website at:
www.jersey-harbours.com
Visit Pacsoft International Ltd's Website at:
www.PacsoftMMS.com