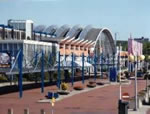 Ocean Road will be assisting Pacsoft International in exhibiting PacsoftMMS at the METS 2005 Trade Show in Amsterdam, Netherlands - 15th to 17th November 2005
The METS 2005 Marina Equipment Trade show will be held at the Amsterdam RAI in Amsterdam. Featuring Leading-edge products, you will find everything from propulsion, navigation, fittings, communications and safety equipment to furniture, construction materials, electrical installations, clothing, marine paints and coatings, and Marina Management Systems.
Pacoft International (and Ocean Road) will be located on
STAND 01.607, EUROPA HALL (Hall 1).
If you visit our stand you will learn how our industry leading Pacsoft Marina Management System can help run marinas more effectively and for maximum efficiency for your marina or marinas you work with.
PacsoftMMS has a global reach with customers in over six countries and distribution partners in major parts of the globe. Come and see a demo of the software, or trial it yourself at your own pace. Have all your questions answered plus take away as much information as you need.
Every visitor to the stand can enter the draw to WIN one of 25 smart polo shirts – great for those summery sailing days!
We look forward to seeing you at the stand.
Visit the Mets Trade Website at:
www.MetsTrade.com
Visit Pacsoft International Ltd's Website at:
www.PacsoftMMS.com