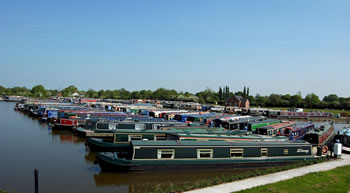 PacsoftMMS has gone live at Swanley Bridge Marina in Cheshire in the United Kingdom. The implementation provides the comprehensive Rental & Accounting Features of PacsoftMMS to assist with the Management of this Narrow Boat orientated Marina, with integration through to the General Ledger of the Sage Line 50 Accounting System saving on double entry into separate systems.
In addition an integrated full Point of Sale solution has been installed including Till Drawer and Receipt ticket Printer. This allows for retail sales and Chandlery items to be processed directly into PacsoftMMS with a flow through of Accounting Information directly to Sage Line 50.
Swanley Bridge Marina is a new 315 Berth Marina set in 250 acres of privately owned farmland deep in the Cheshire countryside and adjacent to the beautiful Llangollen Canal. The Marina offers Brokerage, Engineering Services, Dry Docking, and DIY Repair Shed Rental, all managed by PacsoftMMS.
Visit the Swanley Bridge Marina Website at:
www.swanleybridgemarina.com